2023 FLORIDA FIN FEST
Proud to be a part of the 3rd annual FLORIDA FIN FEST!
Florida Fin Fest is a free 2-day Ocean Conservation, Education, and Music Festival happening in Jacksonville Beach, FL on September 15th & 16th, 2023.
Free to attend, there will be hands-on activities for all ages including an interactive educational village, live music, a sustainability-focused festival village, food trucks, and more.
Florida Fin Fest is delighted to announce its highly-anticipated return on September 15th and 16th, 2023. This two-day festival, held in Jacksonville Beach, Florida, promises to be an unforgettable experience filled with education, music, and a deep appreciation for our oceans.
At the heart of Florida Fin Fest is a commitment to raising awareness about ocean conservation. This free event brings together individuals, organizations, and experts from around the globe to highlight the importance of preserving our marine ecosystems for future generations. By combining education, entertainment, and community engagement, Florida Fin Fest creates a unique platform for environmental stewardship.
Prepare to be captivated by an incredible lineup of musical talent set to grace the stage. Grammy nominated artist Tank & The Bangas, Grammy-nominated Latin artist Cimafunk, reggae favorites Fortunate Youth and billboard-charting artist Shwayze, amongst 15 additional acts, will provide an unforgettable soundtrack to the festival. From soulful melodies to infectious beats, the music at Florida Fin Fest is sure to delight attendees of all ages.
In addition to the incredible musical performances, Florida Fin Fest offers an immersive educational experience. The Educational Village, presented by the esteemed Ocean Conservancy, will feature engaging activations from prominent institutions such as M.O.S.H, The Georgia Aquarium, Jacksonville University, OCEARCH, and others. Attendees will have the opportunity to learn about marine life, conservation efforts, and sustainable practices through interactive exhibits, workshops, and hands-on activities.
"All of us at OCEARCH have enjoyed Florida Fin Fest over the past couple of years and with the action around the new OCEARCH Global Headquarters at Jacksonville University in Mayport heating up this year, the event proves to be more exciting than ever. We look forward to having our team there to celebrate our ocean and together push for a balanced and abundant future for our grandchildren." - OCEARCH Founder & Expedition Leader, Chris Fischer.
Furthermore, the festival proudly presents a captivating Speakers Series on Conservation Topics, hosted on the Blue Jay Listening Room Stage. Highly regarded speakers and experts in the field will delve into pressing environmental issues, share insights into marine conservation, and inspire attendees to take action. From thought-provoking discussions to eye-opening presentations, the Speakers Series promises to be a highlight of Florida Fin Fest.
Florida Fin Fest 2023 invites all ocean enthusiasts, conservation advocates, and music lovers to join us in celebrating our beautiful oceans. Together, we can make a difference and ensure a sustainable future for all.
For more information, please visit the official Florida Fin Fest website at www.flfinfest.com. Stay connected and receive updates by following us on social media @flfinfest.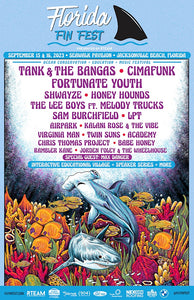 Let's Pawty
Every pooch deserves a cake on their Barkday
Throw your dog a pawty at home or at their favorite dogie daycare. Pawty Packages are all customizable.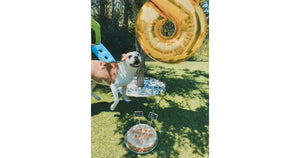 Contact Information
Andreea Light
Owner/ Culinary Artist
(904) 535-1488
fureveryum2018@gmail.com
Mailing Address:
P.O. BOX 50083
Jacksonville Beach, FL 32240
Are you on Instagram?
Be sure to follow us on Instagram for a chance to win free treats and be featured on our page!
fureveryumlove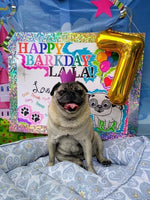 Testimonials
Words fail me at how much these treats bring joy to my Louis. Fur Ever Yum has exceptional service and always willing to go above and beyond for you and your pet. They can count on me to continue to purchase their products ❤️🐶🐾

Sincerely, Laura Saint Clair
My doodle, Oliver, is absolutely IN LOVE with Furever Yum treats. He literally cries and paws at the counter for them. He doesn't even do that when I'm cooking dinner! It's great to know that I can happily feed these to my pup knowing they're only made with wholesome, healthy ingredients. Mom and pup are both very happy customers!

Morgan 💛💛💛💛💛💛💛💛
We were super pleased with how easy the check-out process was and very fast shipping! Our pups love the healthy treats! I was even inspired to try to make my own, nowhere near as good though! Great experience!

Rayanne
Max love your treats so much. I just have to ask for them once, and Andreea will have them ready within a couple of days. Exceptional treats, exceptional service.

Carol